News — 0% Installment
Shop more at 0% interest with your Metrobank and Security Bank Credit Card  and enjoy hassle-free monthly installments at 0% interest.  Metrobank 0% Installment - PROMO PROMO MECHANICS The promo is applicable to all Metrobank Peso Visa / Mastercard, Metrobank Vantage Visa / Mastercard, M Mastercard, Titanium Mastercard, Platinum Mastercard, World Mastercard, PSBank Credit Mastercard, NCCC Mastercard, Toyota Mastercard, Robinsons Mastercard, Rewards Plus Visa, Femme Visa, Femme Signature Visa, Cashback Platinum Visa, ON Internet Mastercard, and Travel Platinum Visa credit cardholders in good standing only. The promo is not applicable to Metrobank Dollar Mastercard, Metrobank PRIME, Elite, Premier + Debit, Prepaid cards...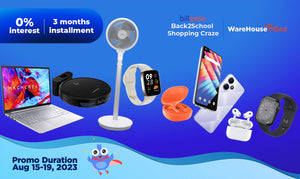 BACK TO SCHOOL SIGN UP CAMPAIGN Terms and Conditions BillEase is the Philippine's top-rated consumer credit buy now, pay later (BNPL) payment app. BillEase lets customers pay for purchases in easy monthly or bi-weekly installments, and boosts conversion and average order value for merchants. Sign-Up & Promo Period: August 10-19, 2023 BillEase will provide, on a special and limited offer basis only, 0% installment up to 3 months with a required upfront payment of 34% to customers through its participating merchant partners, min. transaction of PHP1500 and max. transaction of PHP40000. Customers can increase the upfront payment through a slider...